Galey Bay Caravan and Camping is close to many sites of historical and cultural importance with some great places to see. We have access to a fleet of coaches and would be delighted to organise a day trip to any of the sites below.
Inchcleraun
Known locally as the Quaker Island, Inchcleraun is a peaceful island in Lough Ree It is one of the biggest and most historically significant islands on the lake. A monastery founded by St. Diarmaid in 540 AD still stands there, along with the remains of many churches. The historical significance of the island can be traced back to pagan times. It is supposed to have gotten its name from Clothra, Queen Maedhbh's sister. Furthermore, it is believed that the illustrious Queen Maedhbh met her death on the island when Furbuidhe slew her with a stone from a sling. Read more
Galey Castle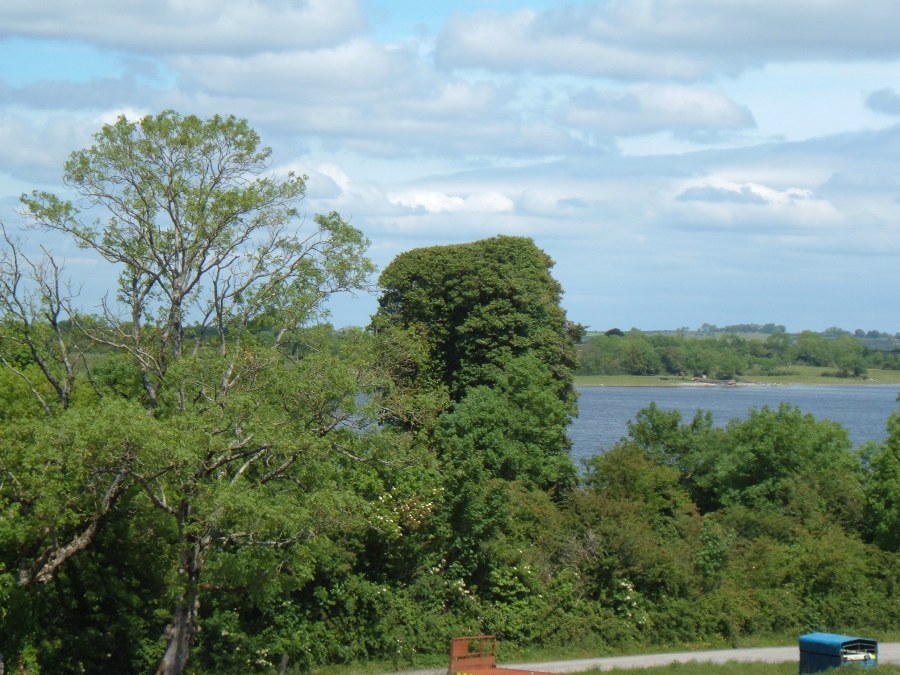 The ruins of Galey castle are just across the road from the park. It was once the stronghold of the O'Kelly clan and was instrumental in the naming of the nearby village of Knockcroghery. The name change of the village occurred in Cromwellian times (17th century) when Sir Charles Coote laid siege to Galey Castle. The garrison resisted and for their defiance were taken to Creggan (The old name for Knockcroghery) and hanged on the hill just north of the village, now commonly known as Hangman's Hill. To mark this, the name of the village was changed to "Cnoc na Crocaire," the Hill of the Hangings, or in english - "Knockcroghery".
Clay Pipe Visitor Centre
Ethel Kelly's workshop and museum is located on the site of a famous Irish Claypipe factory in the village of Knockcroghery in County Roscommon. Knockcroghery was renowned for the almost 300 years for the production of clay pipes or dúidíns. By the late 1800's virtually the entire village was involved in the manufacture of the pipes. Read more
Strokestown Park
Strokestown Park is a unique visitor attraction in Strokestown. Co Roscommon in The West of Ireland comprising of Strokestown Park House, a Georgian Palladian mansion preserved with its original furnishings and fabrics, which can be seen daily by guided tour. The House is built on the site of the 16th century castle, home of The O Conor Roe Gaelic Chieftains. The Landlord Major Denis Mahon was assassinated in November 1847 at the height of The Great Famine of Ireland and it is fitting that The Irish National Famine Museum was established at Strokestown Park in 1994.Read more
Roscommon Castle
The ruins of Roscommon Castle can be seen in Roscommon Town, a short drive away. This is a dramatic and imposing 13th century Norman castle once frequented by Hugh O'Connor, King of Connaught. It is quadrangular in plan with rounded bastions at the corners and a double towered entrance gate. The adajcent Loughnaneane Park and Playground is a 14 acre recreational area which is well worth a visit. Read more
Rindoon
The deserted medieval town of Rindoon is situated on the peninsula of St. John's Point, on the western shore of Lough Ree just a few miles south of the campsite. With its town wall, castle, medieval hospital, church, and mill, there is nothing that compares to it in either Ireland or the UK. The site is accessible via a fantastic looped walk. There is though, a more interesting way of getting into the town. Hire a boat from us and land at the new pontoon opposite the Castle landing in the same harbour as medieval traders did. Read more
Clonmacnoise
Clonmacnoise is an ancient monastic site near Shannonbridge, County Offaly. It was founded by St Ciaran in the mid-6th century and over the years, it was a great centre of learning. Many manuscripts, including the 11th-century Annals of Tighernach and the 12th-century Book of the Dun Cow, were written here. Today, visitors can see three high crosses, a cathedral, seven churches and two round towers. They will also pass through the visitor centre, which displays a number of cross-slabs and the 9th-century Cross of the Scriptures.Read more
Knock
The Shrine at Knock in County Mayo is Ireland's National Marian Shrine.On the 21st August 1879 an apparition of Our Lady, St. Joseph and St. John the Evangelist appeared on the south gable of Knock Parish Church. One and a half million pilgrims visit the Shrine at Knock annually. The Shrine is open all year with the main Pilgrimage Season being from the last Sunday in April until the second Sunday in October. During the Pilgrimage Season, guided tours of the Shrine grounds are provided twice daily, morning and afternoon, commencing at the Shrine. The Shrine site at Knock is extensive particularly if you take in the related buildings such as the various hostels and presbyterys. The dominant building is the Basilica. Read more
King House
King House is a magnificently restored Georgian Mansion located in Boyle, County Roscommon. It was built in the early 1700's for Sir Henry King, whose family were one of the most powerful and wealthy in Ireland. Following many years as a merchants store, King House was saved from demolition in the late 1980s and restored to its former Georgian style by Roscommon County Council. Marvel at the grandeur, savour the magnificence of the period rooms, or just have fun exploring our interpretive exhibitions designed for both adults and children alike! Read more
Athlone Castle
First built in the 13th century as a timber fort, Athlone Castle evolved into a bold, defensive building. Its most significant architectural features, such as the keep, have now been harnessed to act as a dramatic backdrop to its diverse and fascinating story. The eight newly designed exhibition spaces pursue both a chronological and thematic sequence combining hands-on and fun experiences that will appeal to both children and adults. Bold sculptural forms help to convey human figures and historical milestones. 3D maps, audio-visual installations and illustrations by renowned illustrator Victor Ambrus (best known for his work on Channel 4's Time Team), bring the stories and characters of Athlone to life. Read more
Boyle Abbey
Located in Boyle town on the N4, stand the magnificent restored ruins of the Cistercian Abbey founded in 1161 by Maurice O'Duffy. The Abbey Church was consecrated in 1220. It is of Romanesque and Gothic design and despite being plundered on a number of occasions, its architectural splendour makes it one of the finest remaining examples of Medieval art. The Abbey is the daughter house of Mellifont, Co. Louth. Despite many mutilations due to several wars, it is still regarded as the finest of the Cistercian churches to survive in Ireland with the majesty of the south arcade unparalleled elsewhere in the country. Read more